Marchés
All We Want for Next Year Is Not Another 2018: Taking Stock
Bloomberg - 21 décembre 2018 - Par Michael Msika
(Please note: Taking Stock for Europe will be on hiatus from Dec. 24 through Jan. 4 and will resume publication on Jan. 7)
The last time European equities had a year this bad, you were probably fearing for your job. It was 2008, the global economy was on its knees, banks were going belly up or getting bailed out, and the VIX had just surged to 90. George W. Bush was in the White House, Gordon Brown in 10 Downing Street, and we were still using Blackberrys.
U.S. indexes slid yesterday, with the S&P 500 losing another 1.6%. U.S. futures are little changed this morning, while Euro Stoxx 50 futures are edging lower ahead of the European open. This is now a 16% drawdown for the S&P 500 since its peak in September, 13% for the Stoxx Europe 600. While the U.S. benchmark has hit record highs earlier this year, the Stoxx 600 has been halted at that 400 resistance wall. Will it ever break it?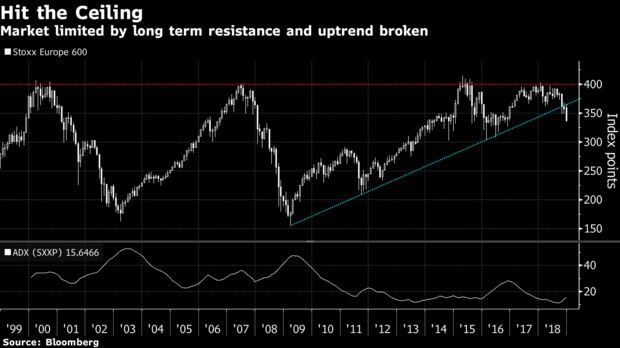 There are only a few trading days left this year, and overall this has been a record year for equities. Just not in a positive way. According to BofAML data, the last time cash outperformed equities and bonds was in 1994. Worse, the last time cash returns were positive while equity, credit, and government bond returns were negative was in 1969. Since its Jan. 26 high, equity market capitalization lost about $17 trillion.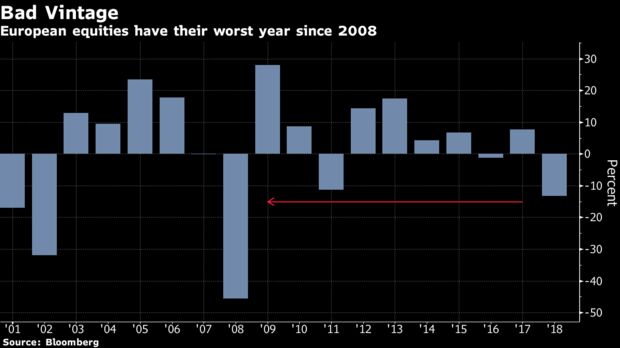 Let's focus further on Europe, where the picture is even grimmer. Europe had the biggest retreat among major regions in 2018, with 40 weeks of outflows over the past 41 weeks. EPFR Global's regional flows data show that European equity funds have lost about $80 billion of assets this year. The only silver lining is that the heavy selling was not as bad as in 2016, when European funds had more than $100 billion of outflows.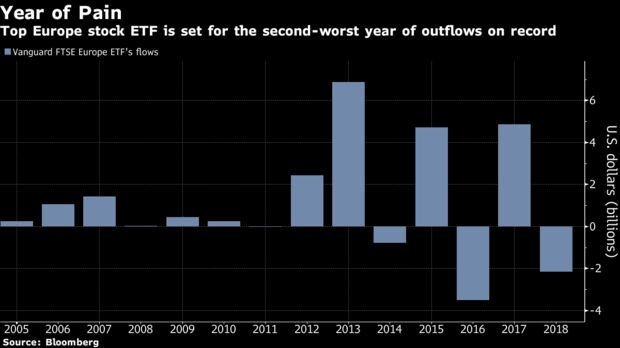 Like global equities, European shares were affected by a series of macro-economic shocks like trade wars and the slowdown of global growth. But it would not be Europe without internal dramas such as the never-ending Brexit uncertainty, the difficulties of reaching a budget deal in Italy, the Yellow Vests derailing the French budget, and renewed fears about Greek debt. European corporate profit growth also suffered relative to their U.S. counterparts -- boosted by massive tax cuts from the Trump administration.
So, where are we now in term of valuation metrics? Very low. Analysts have repeated the mantra for months: European stocks are very cheap. The Stoxx Europe 600 is back to 2013 in terms of P/E, and you need to go back to 2012 to find a higher dividend yield than the current one. And yet, it seems they're still too pricey given the remaining overhangs.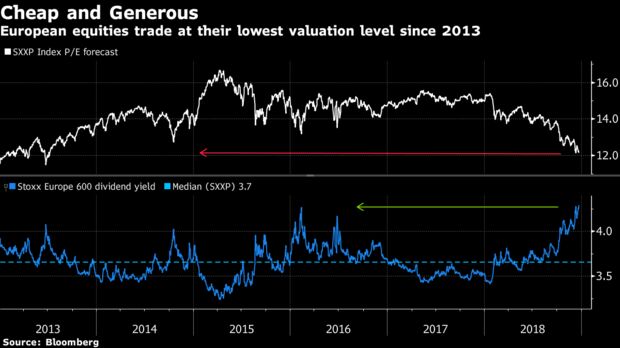 What about sectors? They're all in the red as of Dec. 20. The top-performing sectors during the first half of the year, such as basic resources, technology or retail got hit badly by trade tensions and slowing growth. Oil stocks were also among big gainers until October, when oil started to fall. The WTI crude recorded a 40 percent fall in less than three months.
NOTHING TO CHEER ABOUT
All sectors are in the red
https://www.bloomberg.com/toaster/v2/charts/16053906f57e47638ad9fb6edce66a27.html?brand=markets&webTheme=markets&web=true&hideTitles=true
It's worth noting banks and autos fell relentlessly since their January peak. In terms of valuation, autos now trade at their lowest level since 2012, while banks are trading at depressed 2012 and 2016 P/E levels.
| | | | | | | | | |
| --- | --- | --- | --- | --- | --- | --- | --- | --- |
| Sectors Est. | P/E | Sectors Est. | P/E | | Sectors Est. | P/E | Sectors Est. | P/E |
| Autos & parts | 5.9 | Telecoms | 13.3 | | Construction | 12.3 | Chemicals | 15.3 |
| Banks | 8.0 | Financial services | 13.6 | | Utilities | 13.3 | Real Estate | 15.7 |
| Insurance | 9.2 | Industrials | 13.6 | | Technology | 13.3 | Food & beverages | 18.3 |
| Basic resources | 9.2 | Media | 14.5 | | Travel & leisure | 11.9 | Retail | 14.7 |
| Oil & Gas | 10.2 | Personal good | 14.6 | | Stoxx Europe 600 | 12.0 | Healthcare | 15.2 |
Looking at the sectors' performance, it's clear that 2018 was the year of defensive equities, as investors fled risk assets amid fears about earnings' growth. That trend is likely to continue if macro-economic data and monetary policy don't improve the outlook.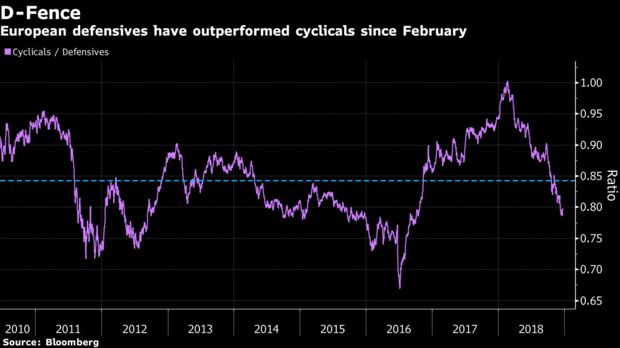 Country-wise, the Swiss SMI honored its "most defensive index" title by outperforming its European peers, particularly in euro-terms. U.K equities didn't really benefit from the weaker pound as Brexit was seen as even more damaging for the U.K. The German DAX was heavily penalized by a series of profit warnings and the high weightings of autos and exporters, all very sensitive to global growth. The budget dispute weighed on Italian equities until mid-December. France's CAC 40 was a notable outperformer for most of the year.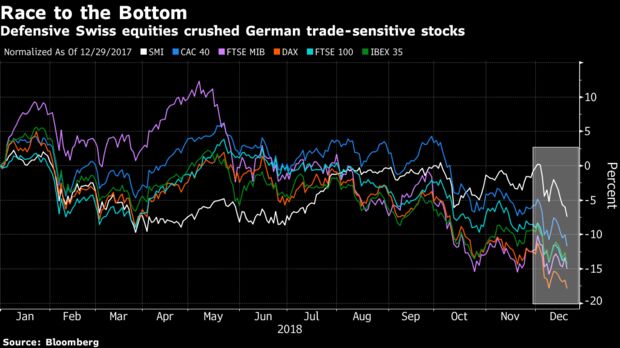 Finally, a word on Fed policy. This was the year the central bank accelerated along the path of monetary tightening, raising rates four times. It was also the ninth hike since it began its current tightening cycle in December 2015. This cycle should continue next year, though at a lower pace, as "only" two rate hikes are anticipated for 2019. This will likely keep fueling U.S. volatility.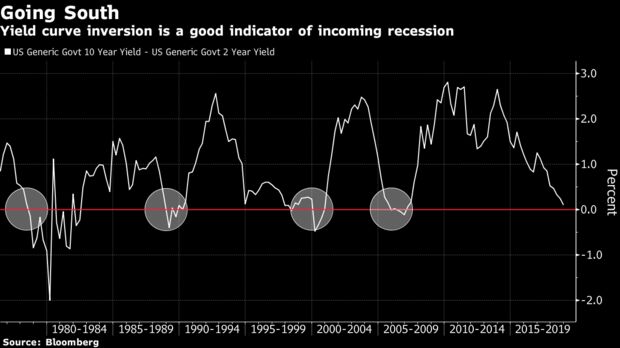 The "crazy" Fed policy had been a massive overhang on equities this year, pushing the 10-year yield to its highest level since 2011. With a less hawkish tone and a expectations of fewer hikes, the yield fell back to more reasonable levels. But the yield curve is flattening, hinting the recession might not be too far away.
SECTORS IN FOCUS TODAY:
Watch the pound and U.K stocks as U.K. Prime Minister Theresa May's team, behind closed doors, is discussing a whole host of options should she fail to persuade Parliament to approve her Brexit deal, Bloomberg News reported. One senior government official confirmed what the market has thought to be apparent for some time now, that the idea of sending the vote back to the people is gaining ground. Brexit will continue to underlie the picture for U.K. stocks, which could remain very choppy through the low-liquidity holiday season.
Watch for more U.S. drama after Defense Secretary James Mattis resigned following President Trump's announcement that the country will pull its troops out of Syria. Mattis was one of the last remaining names from the Trump administration's original line-up. Additionally, a partial shutdown of the government is possible due to an ongoing dispute about providing funding for Trump's wall with Mexico.
Watch European banks after a very bad year just got worse for Danske Bank. Having already seen its market value drop about 47 percent in 2018 after it was at the center of a money laundering scandal, the group is likely to cap the year off with another dip after trimming its guidance for the year.
Watch oil and oil stocks as crude prices continue to face downward pressure and eyes will be trained on Friday on OPEC and its allies as they pledge to provide more clarity on exactly how much output they intend to cut. However, note the correlation of crude prices with U.S. stock prices, indicating that economic confidence is an equally big factor for oil stocks and one unlikely to be brought back to health purely by output cuts.
Watch Adidas and Puma after U.S. peer Nike's second-quarter results beat expectations, sending its shares up in late trading. Nike's beat was driven by strong performance in its two key regions; North America and China. Note, however, that it delivered its third consecutive quarter of growth in the U.S.; previously, Nike had been in a year-long slump in its domestic market which had allowed rival Adidas to make inroads.
COMMENT:
"The relative return opportunity of U.S. equity sector selection recently has outpaced the general U.S. equity-bond opportunity," Wells Fargo strategists write in a note. "Perfect foresight regarding switching 100% of a portfolio between stocks and bonds would have added less return than perfect foresight from switching the top 20% and bottom 20% of sector performers."
COMPANY NEWS AND M&A:
Danske Bank cut its forecast for 2018, blaming this quarter's market slump for the decision and ending a year dominated by scandal on a decidedly bleak note.
Takeaway.com agreed to acquire the German operations of main rival Delivery Hero for about EU930m in a deal that has the seller acquiring an 18% stake in its Dutch rival.
Adidas and Puma shares may get a boost on Friday after U.S. peer Nike's second-quarter results beat expectations, sending its shares up in late trading.
Easyjet Says Gatwick Airport Confirms Runway Now Open
Genmab Investors Not Pricing Pipeline, CEO Winkel Tells Borsen
Novartis Gets EU Approval for Expanded Indication for Kisqali
CMA CGM Has to Publish Ceva Takeover Prospectus by Jan. 28
FDA Asks Bayer to Extend Essure Postmarket Study to Five Years
Mithra Notes'Positive' Results From Study of Zoreline Product
Technicolor Sees 2018 Adjusted Ebitda EU265m to EU275m
VW to Cut About 7,000 Hanover, Emden Jobs in Coming Years: FAZ
Porsche Recalls About 75,000 Panamera Cars Due to Software Issue
DI Newspaper Speculates Millicom Could Be Buyout Target
Centrica to Call for Review of Ofgem Price Cap Decision: Sky
ArcelorMittal Signs $5.5B Revolving Credit Line
BBVA Approves Management Changes as Chairman Gonzalez Steps Down
Casino Completed Sale of Monoprix Real Estate Assets for EU742M
Anglo Sees Adj. Ebitda Loss of $320m for Minas-Rio as Ops Resume
Nordea: Cevian Capital Says It Has Built a 2.3% Stake
TECHNICAL OUTLOOK for Stoxx 600 index:
Resistance at 341.2 (61.8% Fibo); 353.2 (50% Fibo)
Support at 326.5 (74.4% Fibo); 302.6 (100% Fibo)
RSI: 33.4
TECHNICAL OUTLOOK for Euro Stoxx 50 index:
Resistance at 3,072 (61.8% Fibo); 3,172 (50-DMA)
Support at 2,985 (Dec 2016 low); 2,921 (76.4% Fibo)
RSI: 34.3
MAIN RESEARCH AND RATING CHANGES:UPGRADES:
Ontex upgraded to neutral at Goldman
DOWNGRADES:
British Land downgraded to reduce at AlphaValue
Hammerson downgraded to reduce at AlphaValue
Headlam downgraded to hold at Peel Hunt
Klepierre downgraded to reduce at AlphaValue
Land Sec. downgraded to reduce at AlphaValue
Mercialys downgraded to reduce at AlphaValue
Telenor cut to hold at SEB Equities; Price Target 175 Kroner
Telia downgraded to hold at SEB Equities; Price Target 45 Kronor
Wereldhave downgraded to reduce at AlphaValue
INITIATIONS:
AstraZeneca rated new buy at SunTrust; PT 48 Pence
MARKETS:
MSCI Asia Pacific down 1.4%, Nikkei 225 down 1.1%
S&P 500 down 1.6%, Dow down 2%, Nasdaq down 1.6%
Euro up 0.14% at $1.1462
Dollar Index up 0.12% at 96.4
Yen down 0.05% at 111.34
Brent up 0.9% at $54.9/bbl, WTI up 1% to $46.3/bbl
LME 3m Copper up 0.6% at $6033/MT
Gold spot up 0.1% at $1260.8/oz
US 10Yr yield little changed at 2.8%
MAIN MACRO DATA (all times CET):
8:45am: (FR) Dec. Business Confidence, est. 102, prior 104
8:45am: (FR) Nov. PPI MoM, prior 0.4%
8:45am: (FR) Nov. PPI YoY, prior 3.9%
8:45am: (FR) Nov. Consumer Spending MoM, est. 0.0%, prior 0.8%
8:45am: (FR) Nov. Consumer Spending YoY, est. -1.6%, prior 0.9%
8:45am: (FR) 3Q F GDP QoQ, est. 0.4%, prior 0.4%
8:45am: (FR) 3Q F GDP YoY, est. 1.4%, prior 1.4%
10am: (IT) Dec. Manufacturing Confidence, est. 103.8, prior 104.4
10am: (IT) Dec. Consumer Confidence Index, est. 114, prior 114.8
10am: (IT) Dec. Economic Sentiment, prior 101.1
10:30am: (UK) Nov. PSNB ex Banking Groups, est. 7.7b, prior 8.8b
10:30am: (UK) Nov. Public Sector Net Borrowing, est. 7b, prior 8b
10:30am: (UK) 3Q F GDP QoQ, est. 0.6%, prior 0.6%
10:30am: (UK) 3Q F GDP YoY, est. 1.5%, prior 1.5%
10:30am: (UK) 3Q F Total Business Investment QoQ, est. -1.2%, prior -1.2%
10:30am: (UK) 3Q F Total Business Investment YoY, est. -1.9%, prior -1.9%
4pm: (EC) Dec. Consumer Confidence, est. -4.3, prior -3.9